Choir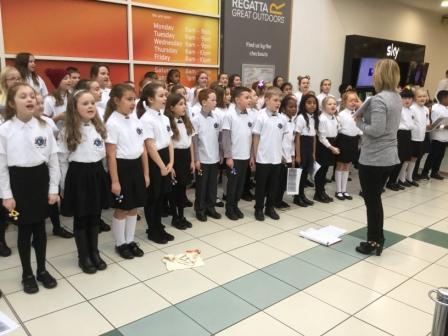 Hart Memorial choir is comprised of 7 - 11 year old pupils (Yr 4 - 7). The choir aims to help children discover and develop their voices, and also experience the pleasure of singing in a group. Children are introduced to the challenges and fun of singing and performing all types of music.
The choir sing in the community over the Christmas season and also perform at our school carol service and open night at the end of term one. In the past have performed at choir festivals and concerts at the end of the Spring term. We have had great fun joining with Presentation choir to make CD's of our choirs singing and performing some of their favourite music together.
This year our choir looks forward to singing alongside Presentation choir once again as we sing in the community together at Christmas.
Choir Practice takes place on Friday afternoon and is taken by Mrs Morrow and Mrs Arnold.
Hart Memorial Primary School, Charles St, Portadown, Craigavon Co Armagh BT62 4BD | 028 3833 2817