Shared Education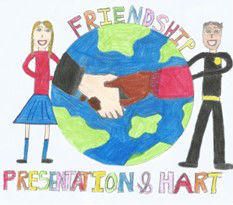 Mission Statement
The collaboration between both school communities, in a fun learning environment, will empower our young people with the skills and capabilities to make informed choices and contribute positively to an increasingly diverse and inclusive society.
On behalf of the Shared Education partnership of the Hart Memorial and Presentation Primary, I welcome you to our Shared Education page. This is to raise awareness of the work being completed between both schools, and to afford an opportunity to help our partnership. Pupils, from P1 to P7, are involved in lessons focusing on peace and reconciliation, mutual respect, improving relations and building friendships. All parents of pupils involved in Shared Education are invited to participate and co-operate in our lessons. Our ambition is to make the partnership a shared initiative for the entire community.
This has been a work in progress for over 20 years – and over that time, there has been great success and progress. Our partnership has grown into a meaningful alliance of staff and pupils. This includes nine lessons per year group partnership, a shared school council, celebration events and a shared residential trip in P7. The collaboration of both schools has added a real variety of learning experiences for our pupils.
The aim of both schools within the shared education project is that all children should have the opportunity to be involved in shared education focusing on identity, relationships and mutual understanding within a safe environment.
Shared education within both schools includes children engaging in:
Joint classes
The joint school choir
The shared school council
Shared parents focus group
Fun activities throughout the year
Teachers and school governors from both schools will also work together to share resources and good practice whilst building good relations and improving on mutual understanding.
Both school communities are committed to sustaining and building the shared education programme to the greater benefit of the community. We are committed and motivated to promote peace and reconciliation in the town of Portadown.
If you would like to contribute to our programme and assist us in our efforts, then please contact Mr Teggarty (Shared Education Co-Ordinator at the Hart Memorial) or Mrs McEvoy (Shared Education Co-Ordinator at Presentation Primary)
Many thanks for visiting our page!
C. Teggarty
Hart Memorial Primary School, Charles St, Portadown, Craigavon Co Armagh BT62 4BD | 028 3833 2817